Leslie O'Hashi
Leslie is a recipient of the 2017 Wyoming Governor's Arts Award. Since 2009, Leslie has been and is currently the owner of dance studio, Bodylines Dance Theatre in Cheyenne, WY. She has several years of experience as a professional dancer, choreographer and instructor. She has performed with Colorado Ballet of Denver, Co., David Taylor Dance Theatre of Denver, Co., Another Dance Company of Denver, Co, Opera Colorado of Denver, Co., Cleo Parker Robinson New Dance Theatre Choreography Showcase of Denver, Co., Canyon Concert Ballet of Ft. Collins, Co. and the International Ballet of San Diego, Ca. She directs Bodylines Dance Theatre Performing Group and Bodylines Dance Theatre Adaptive Dance & Movement Program for children with physical and developmental disabilities and delays. Leslie is a Roster Artist for the Wyoming Arts Council. She recently was the guest instructor for the 2016 Summer Ballet Intensive at High Country Dance Conservatory in Ft. Collins, Colorado and she was a guest instructor at the Dance League 2017, 3 day in-studio training camp in Lake Tahoe, NV.

Owner of Bodylines Pilates & Movement Studio in Cheyenne, Wyoming. Currently teaching Pilates classes & training private and semi-private sessions to clients of all ages and abilities, dancers of all levels and working with special populations such as clients with cerebral palsy. Leslie is a certified Pilates Practioner of Polestar Education since 2002, she is also certified Personal Trainer and certified Health Coach with the American Council on Exercise and is PhysicalMind Mat certified.
Alison Ohashi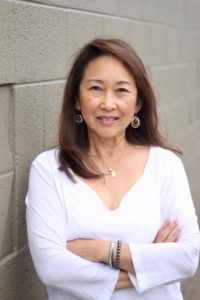 BDT Regisseure, Stage Director, Instructor, Dancer & Choreographer
Alison Ohashi, PHD, a clinical psychologist, also has a Master of Education degree. She has years of teaching, performing and choreography experience. She is a Mat cerified Pilates instructor. Alison teaches the weekly advanced Modern class and choreographs for Bodylines Dance Theatre performances each season.
Taylor Poynter
Bodylines Dance Theatre Assistant, Ruby's BDT Adaptive Dance & Movement Assistant, Instructor & Choreographer
Taylor Poynter has been dancing with Bodylines Dance Theatre for 17 years and had been a member of BDT Performing Group for 8 years. She began instructing for Bodylines Dance Theatre studio at the age of 16. She has performed and traveled with BDT
performing Group for the Children's Mental Health Conference in Lander,WY. and for Walt Disney World's Music Magic Days Youth Education program in Downtown Disney World. Taylor has studied and was a dance major at Casper College. She is currently a BDT administrative assistant, choreography and Ruby's BDT Adaptive Dance & Movement assistant.
Kinsale Day
BDT Instructor, Dancer
Kinsale Day is a junior at Cheyenne Central High school and has been dancing at Bodylines Dance Theatre for eleven years. She participated in the BDT Performing Group for 4 years and has taken trips to Buffalo and Sheridan to dance for others to enjoy. She currently dances in Ballet 5/6, Pointe 2 and Contemporary. For two years, she took part in a dance workshop in Minden, Nevada. Outside of dance, Kinsale takes part in speech and debate for Central and 4-H.
Lee Ann Lucas
Ruby's BDT Adaptive Dance & Movement Assistant & Demonstrator
Lee Ann Lucas has been affiliated with Bodylines Dance Theatre since Fall of 2015 when Lee Ann and her daughter started attending dance classes. She has played an active role with Ruby's BDT Adaptive Dance & Movement program since Fall of 2017 and has been a demonstrator for Ballet 1 and Ballet !!. She has been doing Yoga and Pilates since 2000 and hope to pursue a certificate in Pilates in the near future. Her hobbies are Barre class, health & fitness. Lee Ann is a loving wife and mother of three.
Alex Lloyd
Public Relations Administrator
Alex Lloyd began dancing with Bodylines Dance Theatre when she was in the third grade and continued through college. Today, she works and lives in Bremerton, WA with her husband and two dogs. Whenever she travels back to Wyoming, she enjoys taking several classes with Bodylines Dance Theatre! She also enjoys getting to come back and working backstage for as many performances as possible. Along with her love of dance, Alex has a great love for animals, especially dogs and horses. She enjoys getting to work with them as much as possible.